Inviting the Community Back to Live Events
During lockdown, how much time did you spend staring in the mirror?
Unless you're fortunate enough to live somewhere with a bit of space, likely your morning circuit consisted of something like: living room, kitchen, living room, bedroom, look out the window, living room, bedroom, bathroom… mirror.
It may have seemed tedious at the time. But the truth is, lockdown gave us all the chance for introspection. We at the Calgary TELUS Convention Centre (CTCC) spent two whole years looking at ourselves differently. We had time to ask the big questions: who are we if we're not hosting in-person conferences, concerts, galas, or weddings?
One experience in particular gave us insight. During the pandemic, we were fortunate enough to help serve the City of Calgary by acting as a mass vaccination site. Day by day, as we welcomed all kinds of people from across the city, we saw a sense of community and optimism begin to blossom. People from different walks of life were engaging with healthcare professionals and our staff, all uniting to help do their part. Our daily music playlists fed the atmosphere, and slowly we realized our identity wasn't rooted in being 'just' a convention centre.
We realized we're a place where people come together to make genuine connections – and that sparked an idea.
Campaign Genesis
Those connections were what was missing during lockdown. The sort of things that a Zoom meeting, no matter how productive, just couldn't replicate. With the reopening of Alberta on the horizon in late 2021, we knew we would have to tap into that sense of longing to welcome the world back to Calgary. We did everything we could in the meantime – upgrading our facilities significantly, and enhancing our safety and cleaning protocols to maintain leading global standards – but ultimately, we still had to get the message out there.
We wanted to be lighthearted with our campaign. Our experiences as a vaccination site made us very aware that – for good reason – some people remained extremely cautious about returning to in-person events. The last thing we wanted to do was to pressure these people to do something they felt uncomfortable doing. We didn't want to show them what they risked, but rather inspire them with the reward they'd missed.
We'd all been through a lot together through the pandemic – and those shared experiences formed a common ground that could ignite excitement and a sense of belonging.
So... What did we miss about in-person events?
It was the eye contact. The handshakes. The ability to make a one-liner without having to stop mid-sentence and say, "No, sorry, you go ahead," while twenty faces on Zoom stutter away at five frames per second.
Yes, we've all shown up for meetings with a necktie up top on camera and sweatpants down below. Yes, we've all gotten pretty good at getting the most out of our Keurig machines.
But now's the time to get back to real.
Putting It Together
We had the idea. We just needed the talent to make 'Back To Real'… real. We always think internationally at the CTCC, and the artwork of Japanese artist Satoshi Hashimoto stood out to us immediately. Satoshi's vivid style and retro-chic cool are frankly outstanding, and his ability to pair dynamic, larger-than-life facial expressions with relatable modern environments fit our theme to a T.
We got to work with Satoshi in early 2022. One of the first 'back to real moments' that came to our minds was real eye contact. We missed the days of meeting colleagues, clients, and friends face-to-face at real conferences and events rather than through a virtual window. Satoshi took that idea and ran with it. You can see the first sketches he drafted for the concept here: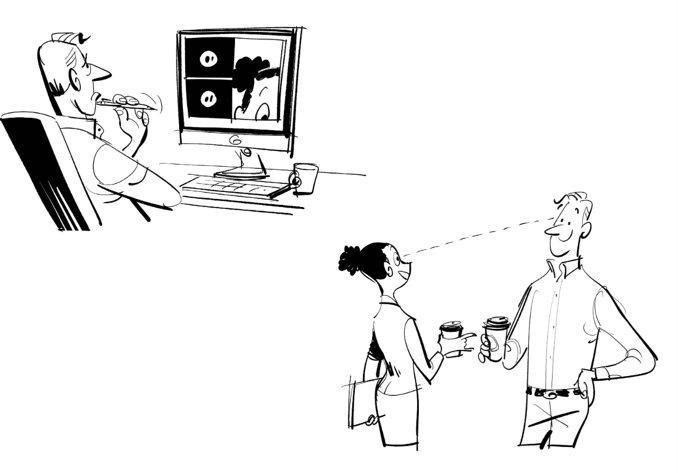 Or this example, getting 'Back to Real Breaks'. We mentioned the Keurig above – wouldn't you much rather have a coffee brewed on professional equipment by a trained barista?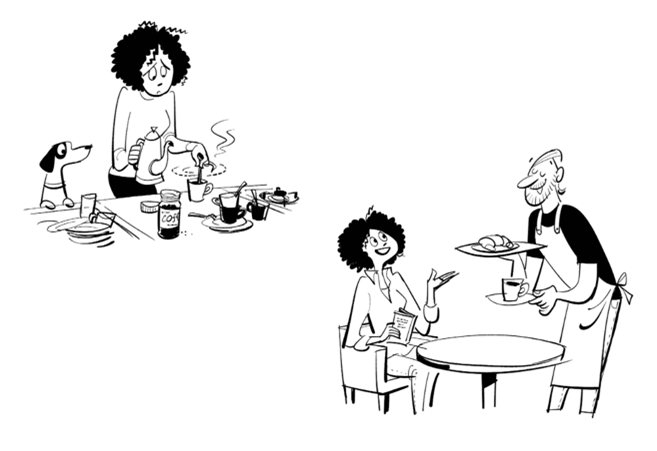 So, only one question remains: what have you missed most about live, in-person conferences and gatherings? You can hit us up on our social media feeds (Twitter, Facebook, Instagram) any time – we'd love to hear from you.
Or better yet, come get back to real with us in-person. Our event planning team is always ready to help you put on the kind of unforgettable experience that only a leading convention centre can host – we'd love to show you what you've missed.