Inspired by Alberta's landscapes and driven by your needs, our newly unveiled redesign features dramatic statements and functional upgrades.
As we welcome back events, we're excited about the plans, dreams, and opportunities that lie ahead for this great city, and for the clients and guests we'll be welcoming through our doors once again. And since it's those dreams that will always be at the heart of how we evolve over time, we're thrilled to show you more about the rejuvenation of Macleod Hall, our most flexible large event space on offer.
As excited as we are about these changes, it's actually not about us at all – it's about you! Here are a few of the many reasons for you to take a closer look at the rejuvenated Macleod Hall pre-function:
Uniquely designed by Canadians and Albertans, to celebrate our home.
The redesign of this space started with our beautiful province as the foundation. Each designer and artist we worked with was inspired by Alberta's natural landscapes, and by the culture and stories of the people who live here.
Canadian artist Kathryn Walter designed a stunning feature wall called Prairie Winds, a multi-dimensional white and grey piece meant to evoke wind sweeping across the vast plains and sky we know so well here in Alberta. The hanging art displayed throughout the space is all done by Canadian artists; as a collection, the works pay tribute to our Canadian Forces. Throughout the pre-function space, designers worked with natural materials and a warm palette, reflecting our provincial landscapes and the down-to-earth warmth of our people.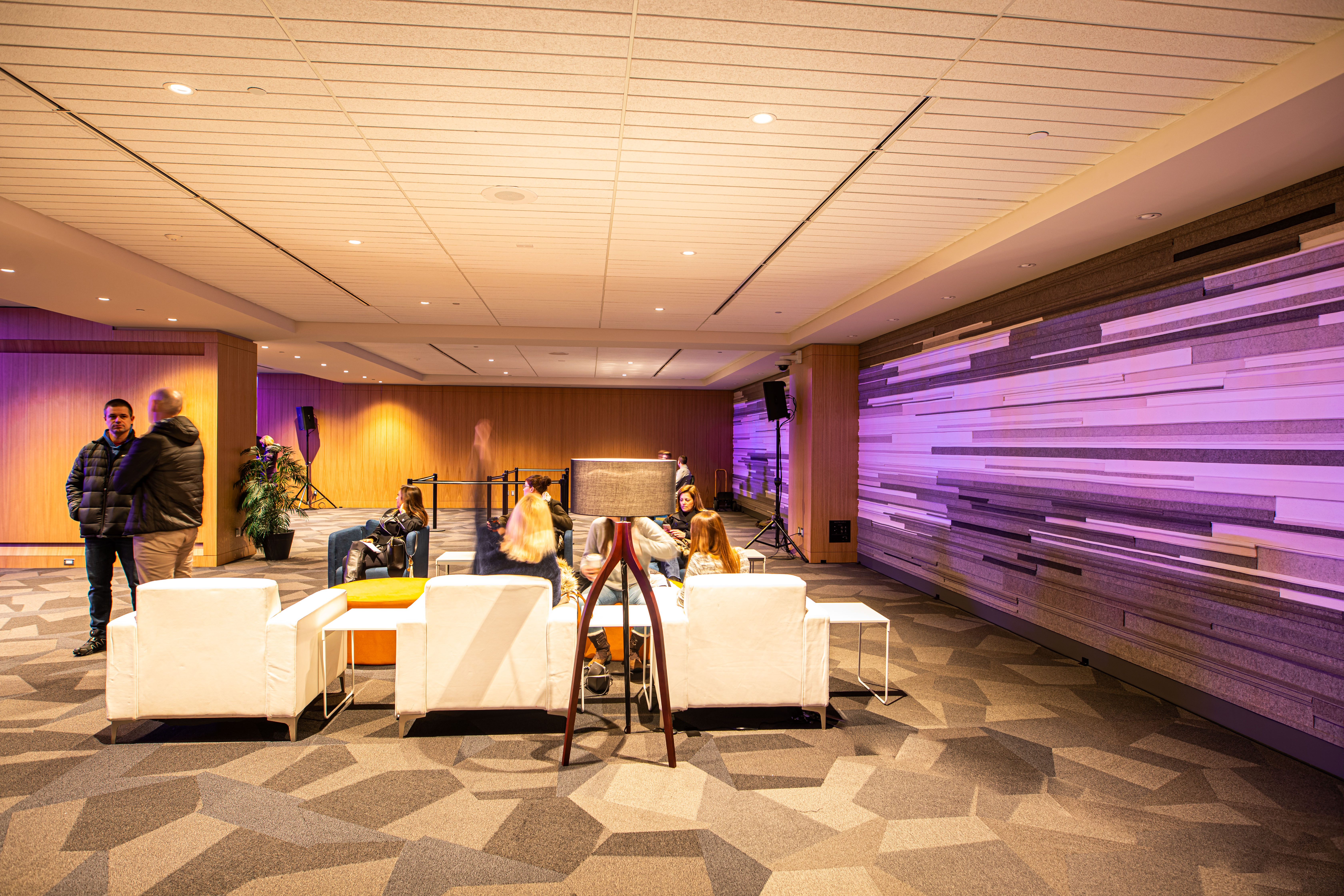 More customizable and functional than ever, from major feature to minute detail.
The most show-stopping feature in the redesign is also our most customizable. The ceiling installation, which is the first of its kind in the province and was designed by Sarah Ward, is a gorgeous blank slate that allows for endless possibilities. Lighting can be used within the installation to set or change the tone of your event, to highlight brand colours, to work in tandem with entertainment or programming – whatever your imagination can dream up, we're ready to make happen.
Benches chicly recessed into the walls of the pre-function space allow for comfortable interactions between guests during breaks or before your event starts, and are equipped with accessible charging outlets. Our washrooms are bright and spacious, planned with a focus on accessibility.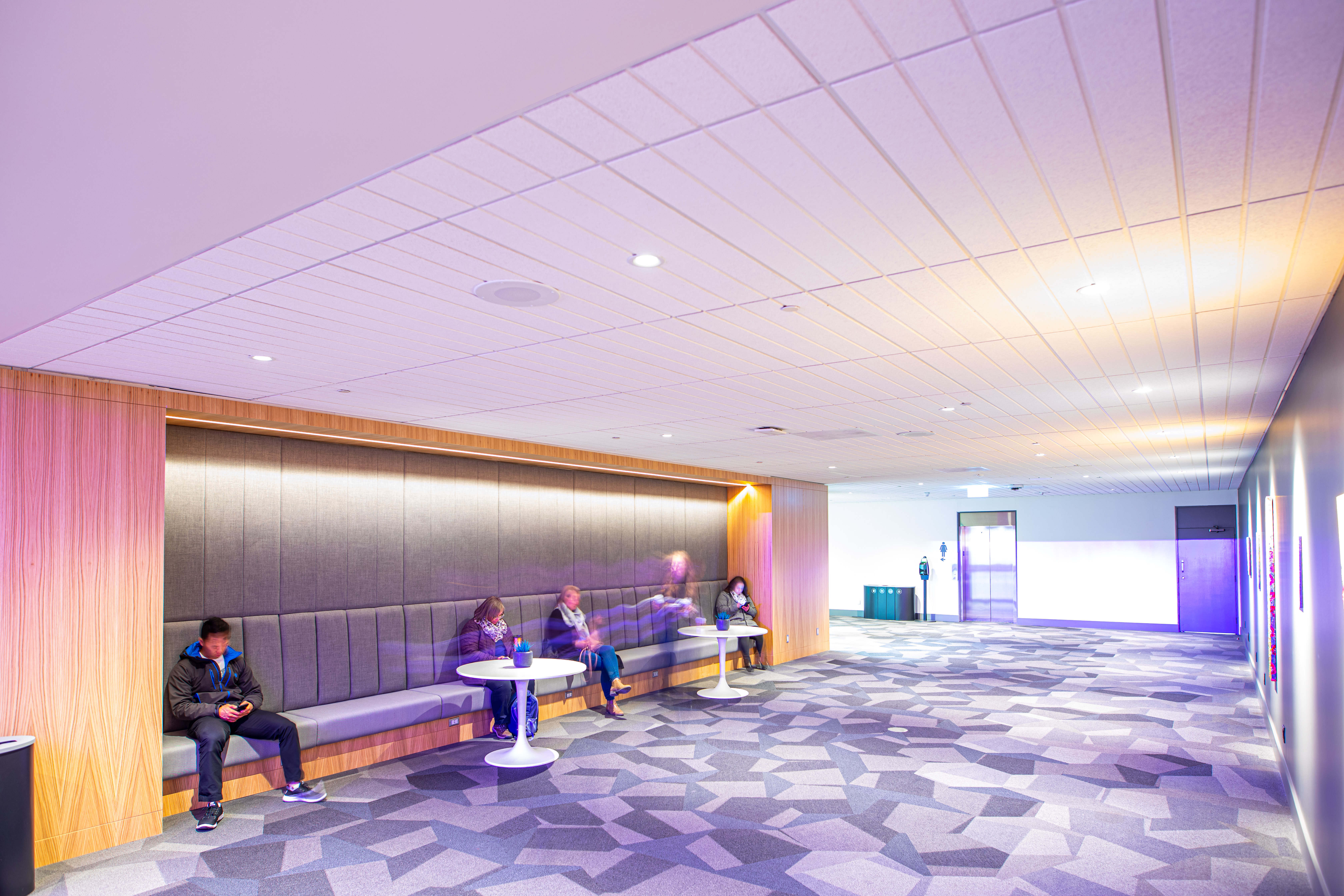 Led by a cutting-edge team of Canadian women.
Traditionally, many of the lead roles in a project like this are held by men – but not this time. The team behind this rejuvenation was not only representative of some of the finest Canadian talent in construction, design, and art, but women were at the helm.
These women are passionate, understood the big goals and lofty intentions we had for the project, and executed their roles with an inspiring level of talent and professionalism. Big thank yous to Lara Murphy, Karen Ryan and Shauna Peetoom from Ryan Murphy Construction, and Sarah Ward and Mary Frances Harper from Sarah Ward Interiors.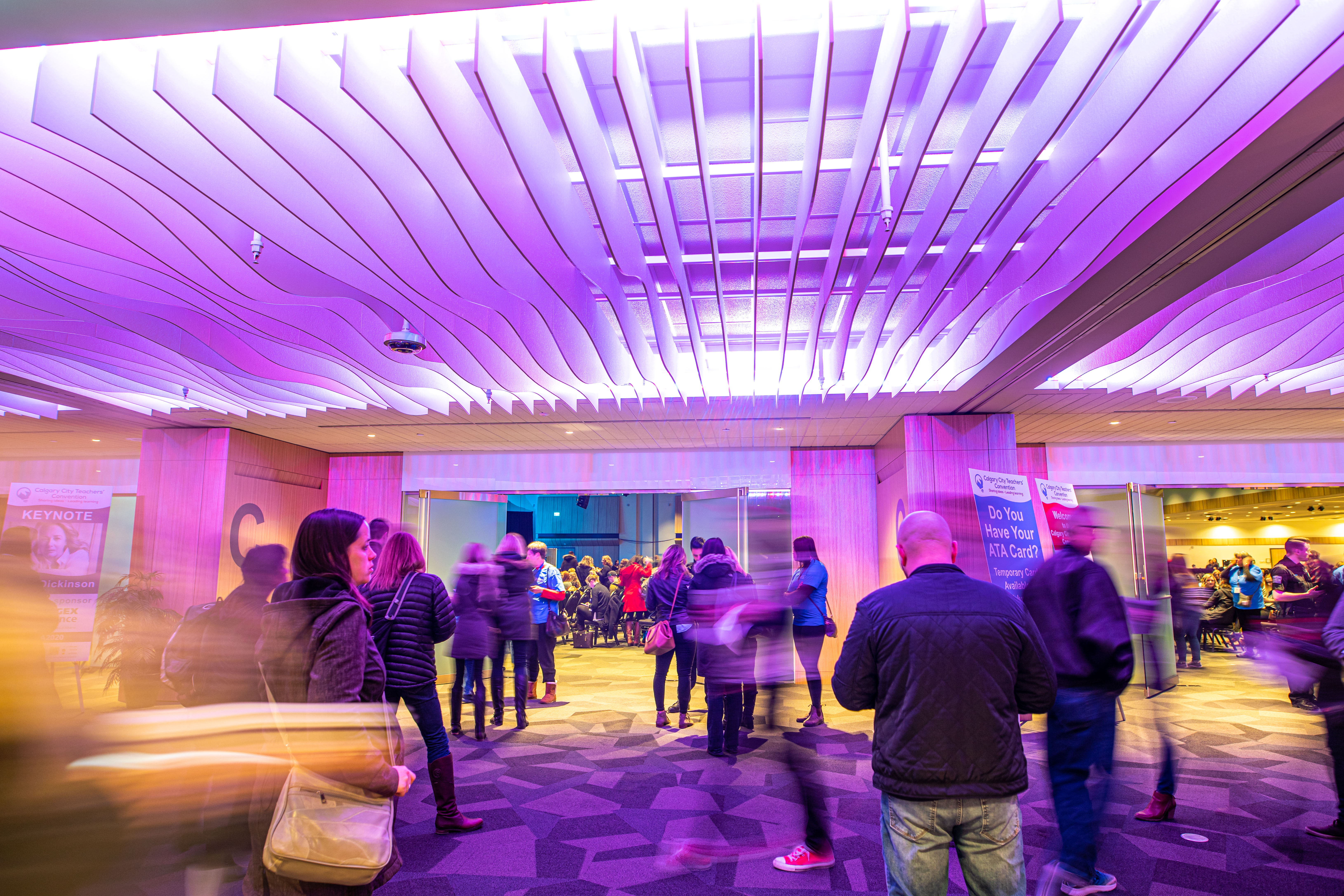 Purposeful environmental sustainability.
Sustainability was a major part of our planning process, and it's another aspect of the final result that we are truly proud of.
The ceiling installation was made from fully-recyclable 100% PET plastic, a material globally recognized as a safe, non-toxic polymer. This material is low-VOC and sustainably sourced, with up to 60% of the PET derived from post-consumer recycled plastic bottles.
Another sustainable choice was the material used in our feature wall. In addition to being a great choice for sound control, felt is also a renewable and biodegradable resource that made it the perfect option for a responsible environmental impact.